The average thirty year fixed rate mortgage rate dropped below 4% for the first time on record according to Freddie Mac's Weekly Mortgage rate survey. Fifteen year rates and 5/1 ARMs also dropped to record lows as the chart below shows. The drop in mortgage rates corresponds to a drop in 10 year Treasury notes.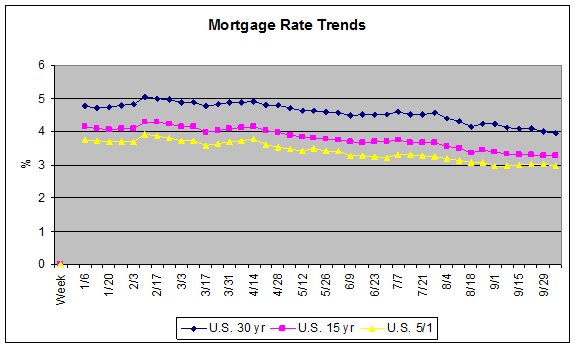 There are three main factors responsible for the drop:
The U.S. economy continued to underperform and looks like it may be headed into another recession. This has depressed bond yields.
The threat of a Greek default continues to hover over the markets and push investors into the relative safety of Treasury bonds, causing yields to drop.
The Fed has sold shorter maturity bonds and is buying longer maturity bonds in an effort to drive longer-term yields lower. It appears to be working.
Could 15 Year Rates Go Below 3%?
It's possible yields on 15 year fixed rate mortgages could go below 3%. Looking at the three factors above, the U.S. economy appears to be decelerating instead of getting better. That will drop yields. The Greek default crisis is not resolved and will most likely get worse before it gets better. It's also possible default fears will spread to other vunreable European nations - Italy and Spain - and cause a further flight to U.S. debt. If these two things happen, the Fed will continue to intervene in the markets.
Is is possible this worst case scenario will happen? Yes. Does that mean you should wait to buy a home or refinance? No. Rates continue to hit historic lows. Take the cheap money if you can get it and if it makes economic sense