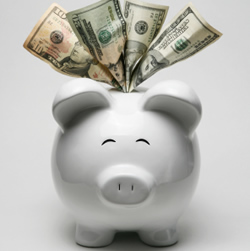 We all know that savings account rates have been on a path to nowhere over the last three years since the start of the global financial crisis. Back in 2007, savings rates were as high as 6% but now the average is closer to .50% APY. But with a little bit of research, you can still find savings accounts at 1% APY and above - some even higher than 1.50% APY. While that doesn't sound like much, it's still a full percentage higher than the national average. So, looking at our rate database, here are a few ideas:
National Online Banks
CNB Bank Direct - CNB pays 1.15% APY on an online savings account, the highest rate in the country according to the BestCashCow rate tables. It requires $1 to open and and start earning interest. The online bank is a division of The Citizens National Bank of Bluffton.
American Express Savings - Personal Savings from American Express is offering a 1.00% APY online savings account. The bank has consistently received positive reviews from users and generally keeps its rate in the top 10. It's easy to open an account and there are no minimum balance requirements.
Aurora Bank - Aurora bank pays 1.06% APY but it requires a minimum balance of $100,000.
Local Banks and Credit Unions
You can also find some above 1% savings account rates by taking a trip to your local bank. Here are some of the offers we found:
While I realize most of you do not live near these banks or aren't eligible to join the Aflac credit union, almost every state and zip code in the country has a bank that is paying significantly above the national average. Click the "Savings" tab above to view savings account rates in your local area.
There no reason to stick with a low rate when FDIC insured banks are offering to pay more. Help yourself and your pocketbook by looking to get more for your savings.