I read an interesting post in the Blog Calculated Risk today. The article showed that the five banks that have failed in 2008 so far (including Indymac) were a blip compared to the 574 that failed at the height of the Savings and Loan crisis in 1989. At that time, the government was forced to bail out the banking industry to the tune of tens of billions of dollars.
Some of the comments on Calculated Risk pose an interesting question. Maybe there were more smaller banks in 1989 so that while there might have been more bank failures, they were relatively tiny from an asset perspective. And maybe one bank failure today is larger than hundreds of smaller bank failures back then. Determined to see if that was the case, I went to the FDIC website, downloaded the data on bank failures and their respective asset sizes, loaded it into Access, did a query or two, and..presto: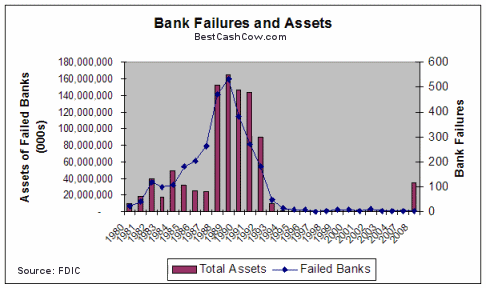 The bars show the combined assets of the failed banks for each year while the line shows the number of failed banks. As you can see, the number of failed banks is tiny today compred to ten years ago and so were their respective assets - until Indymac. $32 billion of this year's $34 billion in failed assets were attributable to Indymac.
Let's look at this another way. The chart below shows the average assets for bank failures by year.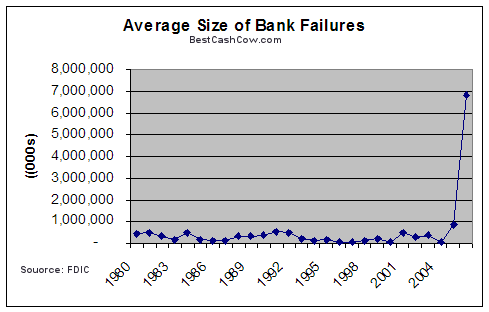 The largest bank failure was in 1984 when Continental Illinois National Bank and Trust Company, a $40 billion dollar bank collapsed. As the chart shows, other bank failures during that time kept the average relatively flat. Another intersting, fact, the failure of Continential Illinois was considered to be a forerunner of the S&L mess.
To all of this, add the fact that there are 50% fewer banks today than there were 10 years ago.
So, here's the real question. Is the average so high because small banks have done a better job managing their balance sheets and asset risks and remained solvent? Or is Indymac just an aberration and no more bank failures will be coming? Or, is Indymac, like Continental Illinois, a leading indicator of what will be fewer but much larger future bank failures?