As the chart below shows, mortgage rates fell to record lows this week, with 30 year fixed mortgage rate getting close to 4%. According to BestCashCow data, a borrower can get a fixed 30 year mortgage with 0 points at 4.041%. That's significantly lower than than the same time last year, when the best 30 year rates ranged between 4.5-5%.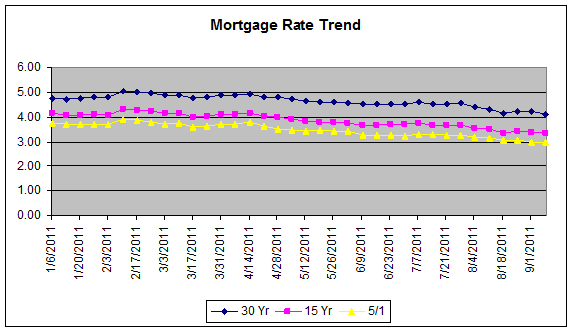 Both the 15 year and 5/1 ARM have also dropped considerably over the course of the year.
What's responsible for this decline in mortgage rates? You can thank the weak economy and the ongoing public debt crisis in Europe. Both have sent investors scurrying into US Treasuries, which are perceived as super safe place to park cash. As a result, yields on 10 Year Treasury notes have dropped to 2%. Since many mortgage bonds are tied to the 10 year, voila, mortgage rates have been dropping?
Where Are Mortgage Rates Going?
Most pundits believe there is a 50-50 chance of the U.S. slipping into a double dip recession. I agree. The only growth in the economy over the last three years has come from government spending and as the debt ceiling debacle demonstrated, government spending is going away. As I discussed last summer, any budget deal was likely to result in in years of slow growth and potentially a double-dip recession. Nothing that has happened since that time has changed my opinion.
Circling back, years of slow growth mean rates are not going up anytime soon. This is Japan redux. In Japan rates have been low for over ten years now. If Europe melts down further, rates will go even lower. If the Chinese economy implodes, as some think it might do, then rates could drop still further. Even if Europe does not melt down, austerity programs adopted by EU member states will certainly keep growth slow. None of this looks to put pressure on US debt.
About the only scenario I see for a spike in mortgage rates anytime soon, is if the bond markets believe that US debt is unmanageable and begin driving up rates on US Treasuries. But that seems unlikely.
So, if you are buying a home or refinancing, enjoy the low mortgage rates. They are likely to be around for some time to come.