Average 30 year mortgage rates rose slightly in the past week but still remain within the 4 - 4.20% band they have fluctuated in over the past five months. Average 15 year mortgage rates also remain very stable, fluctuating between 3.4% and 3.6%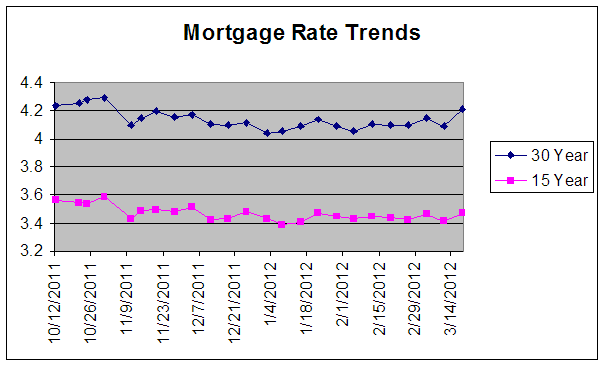 Jim O' Malley, a senior loan office at Leader Bank told me that "rates have been very stable the last 6 months. They dipped a little due to the Greek crisis but remain mostly stable. Rates are supposed to trend a little higher due to the improvement in the economy and the jobs situation improving month over month." As the economy improves, rates should also move up. Recent data shows that employment and consumer confidence is on the rise. Still, almost no one expects strong economic growth which means that while rates may rise, the increase will be most in the medium term.
As rates rise, lending requirements continue to remain tight. Jim said that "lending requirements are very tough and banking has become forensic on many levels. The pre-approval market seems to be improving so it looks like the Spring may be a busy season for purchases."
By forensic, he means that banks are taking a deep look at a borrowers financials. Be prepared to show that you have the income and financial wherewithal to afford the mortgage you are seeking.
Jim O'Malley also thinks many homeowners will be disappointed at what their homes appraise for unless they live in select areas that have seen limited price declines.
Case-Shiller data shows that housing values continue to drop. So, if you are sitting on the fence regarding buying a home or refinancing, now might be a good time to act. The future may bring higher rates and lower appraisals.