Fed Chairman Ben Bernanke threw some gasoline on the fire last week when he stated in a speech that the Fed might at some future date begin to scale back the Fed's purchase of treasuries and mortgage backed securities if the economy continues to recover. Interest rates, which had already begun to rise, gave another little burst upwards. Mortgage rates, which had been rising for the past four weeks, spiked, with the average 30 year fixed rate mortgage now over 4% for the first time since April 2012. You can view rate trends for deposit and mortgage products here. If you are thinking about refinancing, now may be the time as rates are likely to go up, not down. Municipal bond yields spiked, bringing prices down, which is generally bad for those holding bond funds. I sat in on a municipal bond investor call last week with Thom Doe from Municipal Market Advisors and they think muni rates are 30% through their rise cycle.
For depositors, the news isn't quite as exciting. As we noticed in our last Bank Saver update, the rate of decline in savings and CD accounts has slowed. As the chart below shows, the slope of the product lines has flattened. Average 12 month CD rates have fallen from 0.359% one month ago to 0.356% today. Thirty-six month CD rates fell from 0.718% to 0.712% while five year CDs fell from 1.054% to 1.049%. These are all relatively small declines. In the past we would have seen this rate of decline in one week, not one month.
Top Rate Recap
Averages don't tell the whole story. Below are some of the top rates on nationally available online accounts. You may find even better rates from local banks but for puposes of comparison we use the online accounts. Top rates have held steady from one month ago.
Online Savings: AmTrust Direct retains the top spot at 1.05% APY.
1 Year CD: GE Capital Retail Bank holds the top spot at 1.05% APY.
3 Year CD: CIT Bank, and Barclays Bank Delaware offer a 1.35% APY.
5 Year CD: Barclays Bank Delaware, and CIT Bank offer 1.75% APY.
Rewards Checking: Hope Credit Union and Money One Federal Credit Union both have the top rewards checking rate of 3.01% APY for balances up to $10,000. Both credit unions are open to members from across the country.
Local banks and credit unions often offer better rates (especially for CDs). You can search for better local rates here.
The chart below shows the trend in average rates since October 2012.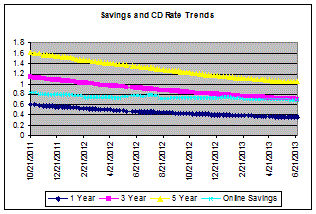 The difference in the rate of decline between online savings and CD rates can be viewed on the chart below, which shows the spread between online savings account rates and 12 month CDs. On average, online savings account rates pay 0.341 percentage points more than 1 year CDs, up from 0.23 percentage points more at the beginning of last year and approaching the spread's high of 0.344 percentage points in late January. This number didn't change in the past week as both online savings and CD rates remained steady.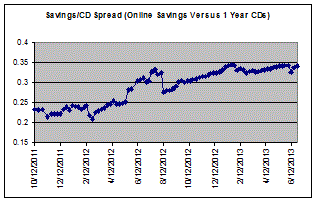 General rate environment
The faintest winds of change seem to be blowing over the interest rate landscape. Long term bond yields have risen significantly in the past month, with the 10 year treasury moving up 97 basis points from 1.62% to 2.59% today. Chairmen Bernanke has stated that at some future point, monetary stimulus may be eased, and bond markets seem to be expecting future growth. Indeed, bond markets are significantly better at spotting future economic events than the stock market. The stock market, which has climbed to over 14,000 (Dow) because of the low rates has begun to pull back in reaction to rising rates.
Will this continue and will this impact short term rates? It is clear the Fed is testing the market for when it eventually does begin to pull back on stimulus. If growth continues over the next couple of months, look for the Fed to begin pulling back on their bond purchases sometime in the fall, leading to higher long-term bond rates.
Deposit rates are set by the short-term Federal Funds rate which has not budged from close to 0% for the past four years. Until that moves, look for savings and CD rates to continue to remain rock bottom low. Even when the Federal Funds rate moves, it is not going from 0% to 5% overnight. I believe it will be a gradual process in which the Fed raises the rate, waits to see its impact, and then if growth continues, raises it more. Along the way, economic slowdowns may require the Fed to lower the rate again or hold it steady for a prolonged period of time.
My outlook: Savings rates will continue to drift lower for the next 7-13 months before beginning to move higher. How high and how fast they move will depend on the level of local, state, and federal taxes and cuts; the continuation of a recent economic uptick; technological advances; and the ability of Europe to put its woes behind it and resolve its fiscal problems.
Savings Accounts or CDs?
The data continues to show that opening a savings account is a better bet than a 1-3 year term CD and I expect this to hold through 2013. Online savings accounts have held the line over the past year while CD rates continue to fall. As the chart shows, the premium for opening a longer-term CD has eroded significantly and continuously over the past year. While the premium for opening a 5 year CD over a 1 year CD was 1 percentage point in October 2011, it now stands at .697 percentage points. The CD yield curve has flattened considerably over the past 24 months.
Is it worth it to go long and open a 5 year? If you don't need the money, it's probably okay. Rates may begin to rise in the next year but they probably won't shoot up. Inflation looks to remain tame. There is also the chance that we go Japanese and rates continue to decline, bottom out, and stay low for the next 5-10 years. In that case, a 5-year CD today would look good. I don't expect that to happen, but it could.
For money you want to keep liquid, go with online savings accounts. They offer better rates than 1-3 year CDs and athough several banks have dropped rates in the past month, they have still offered decent rate stability over the past year and a half.
If you want to take advantage of the higher rates on longer-term CDs, look to open them at local community banks. BestCashCow research has shown that community banks and credit unions offer the most competitive rates on longer-maturity CDs. Otherwise, you'd be better off keeping your money liquid in an online savings account.
I believe this is the best and easiest strategy for keeping your cash liquid and maximizing your savings over the next year.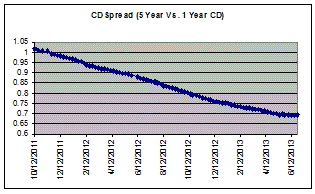 Make the best of a tough savings situation in 2013
Yields may be low in 2013 but a savvy saver can boost the return with no increase in rate by rate shopping. By shopping around, a saver can earn an extra half to full percentage point. On $100,000, that's $1,000 in extra cash per year. Remember, even in today's environment, there is competition for your cash.
Get Our Weekly Rate Update E-mail Newsletter
If you haven't already, sign up for the BestCashCow Weekly Rate Update Newsletter and get the best rates from your state or from around the country delivered right to your email box. It's free and takes 30 seconds to do. Sign up.