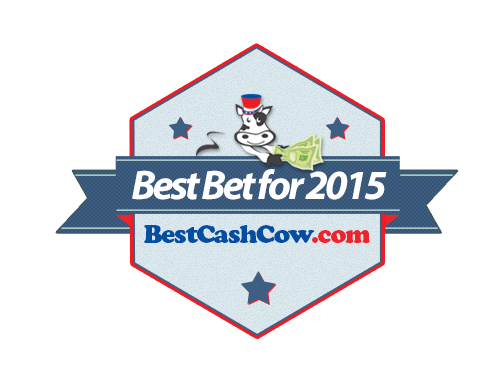 Shopping for a new CD, savings account, or credit card in 2015? Below are the BestCashCow best bets.
Most Innovative Online Banking Product for 2015
The most innovative online banking product introduced in 2014 and available to consumers in 2015 is CIT Bank's flexible CD products known as RampUp CDs. The RampUp products are Certificates of Deposit that allow online savers to take advantage of higher CD rates, yet avoid what many perceive to be the pitfalls of locking money up for an extended period of time when we may be on the precipice of dramatically higher moves in rates.
CIT Bank is the only online bank offering RampUp CDs which range in duration from 1 to 4 years. With more flexibility than a standard CD product, CIT's RampUp CDs are suitable for those with either short- or longer-term savings goals. In today's challenging economic environment, this flexibility can help customers achieve their savings goals more easily.
Each of the RampUp products allows a 1 time rate increase if rates should rise. The 1 and 2 year products – called RampUp Plus - also allow depositors to add to their CD balance 1 time during the course of the CD. While CIT Bank itself offers slightly higher rates on 2, 3 and 4 year Jumbo CD products, the RampUp products all offer extremely competitive rates and are a BestCashCow.com Best Bet for 2015.
Most Interesting Opportunity Nationally for depositors to take advantage of a development in local banking
Over the last 18 months or so, several regional Massachusetts based banks have begun offering online banking at extremely competitive online savings rates. Five banks in particular (Salem Five, East Boston Savings, Bank 5, Radius Bank and Northeast Bank) offer online savings rates above 0.85% and, even more importantly, four of the five offer these rates to residents of all US States (East Boston restricts online accounts to residents of New York State and New England). This heavy online banking presence by Massachusetts banks is particularly interesting to savers as banks chartered in Massachusetts are covered by DIY insurance, a special insurance fund that covers deposits to a limit of $1 million per account holder (FDIC insurance only provides coverage to $250,000). DIY insurance applies regardless of the account holders' state of residency. While service levels may be less than optimal in some of these online banks, and banking interfaces may be less easy to work with than those of the better known online banks, this development gives those looking to deposit sums up to $1 million in a single online banking account more flexibility to pursue the most competitive rates.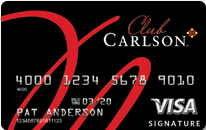 Most Valuable Travel and Rewards Card for 2015
The editors of BestCashCow have voted the US Bank Club Carlson card a BestCashCow.com Best Bet for 2015. In our view, the card ranks far and away as the best value in hotel loyalty programs for those who are able to optimize the redemption opportunities offered to its users. The card has significant sign up and renewal benefits that are on par with any hotel rewards credit card. New card members receive 50,000 Club Carlson Gold points immediately after signing up, plus 35,000 points after spending $2,500 in the first 3 months; card members also receive 40,000 points on each anniversary. Moreover, each $1 spent on the card accrues 5 Club Carlson points. Since BestCashCow values each Club Carlson point with a redemption value as high as 2 cents, this card can deliver as much as 10 cents in value per $1 spent. A card-holder will only receive these high point redemption values if the points are redeemed at the most luxurious Radisson Blu properties in New York, London, Chicago and Paris, and if a holder also takes advantage of the last night free option on a stay of over one night.