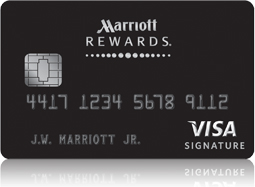 Features

Sign-Up Bonus

A free night at a category 1-4 hotel on account approval, plus 70,000 Marriott Rewards points after $1,000 spend in 3 months.

Other Benefits

Earn 5 points per dollar at Marriott properties, 2 points per dollar for airline tickets purchased directly from the airline, car rental agencies, and restaurants, and 1 point per dollar elsewhere.

Silver Elite status, and 1 Elite credit for every $3,000 spent on card.

Annual Fee

$85, waived first year. You will earn a free night at category 1-5 property each year upon account anniversary.
Calculate Your Value
For those meeting the promotional spend requirement, BestCashCow calculates the value of the sign-up bonus to be $380 to $450, placing a $100 on the value of the free night in a category 1-4 hotel.
BestCashCow estimates the value of 1,000 Marriott points to be between $4 and $5. A cardholder spending $25,000 a year, including $1,000 at Marriott hotels and $5,000 in dining or airline tickets, would receive 34,000 Marriott Rewards points annually which BestCashCow calculates the value to be between $136 and $170. Additionally, the free anniversary night in a category 1-5 property represents value that more than covers the annual fee after the first year.
APPLY NOW
Compare this credit card with those of other major hotel loyalty programs.
Image: www.mdconnectinc.com