Divorce is often emotionally and financially challenging, but following a few key do's and don'ts will minimize the frustration and help each party weather the process in better financial shape.
Do's
1. Engage a mortgage lender into your divorce team very early in the divorce process.
With a mortgage lender on your divorce team, clear choices and implications of each choice are known up front, which can minimize the emotional challenges of divorce and clarify the paths to consider during your settlement negotiations. Ultimately this will smooth the path for a settlement agreement that supports current and future mortgage financing needs.
In addition, a mortgage lender can offer information on the possibility of getting a quitclaim deed on the property. In the case of joint property ownership (and if all the involved parties agree), a quitclaim deed enables the title to be transferred to one of the partners. As a result, the party who gets the deed will be able to sell, mortgage, or simply give the property away without the approval or consent of the other party.
2. Get an appraisal on existing property
The fee for an appraisal performed by a professional appraiser is worth every penny in terms of time and paperwork saved.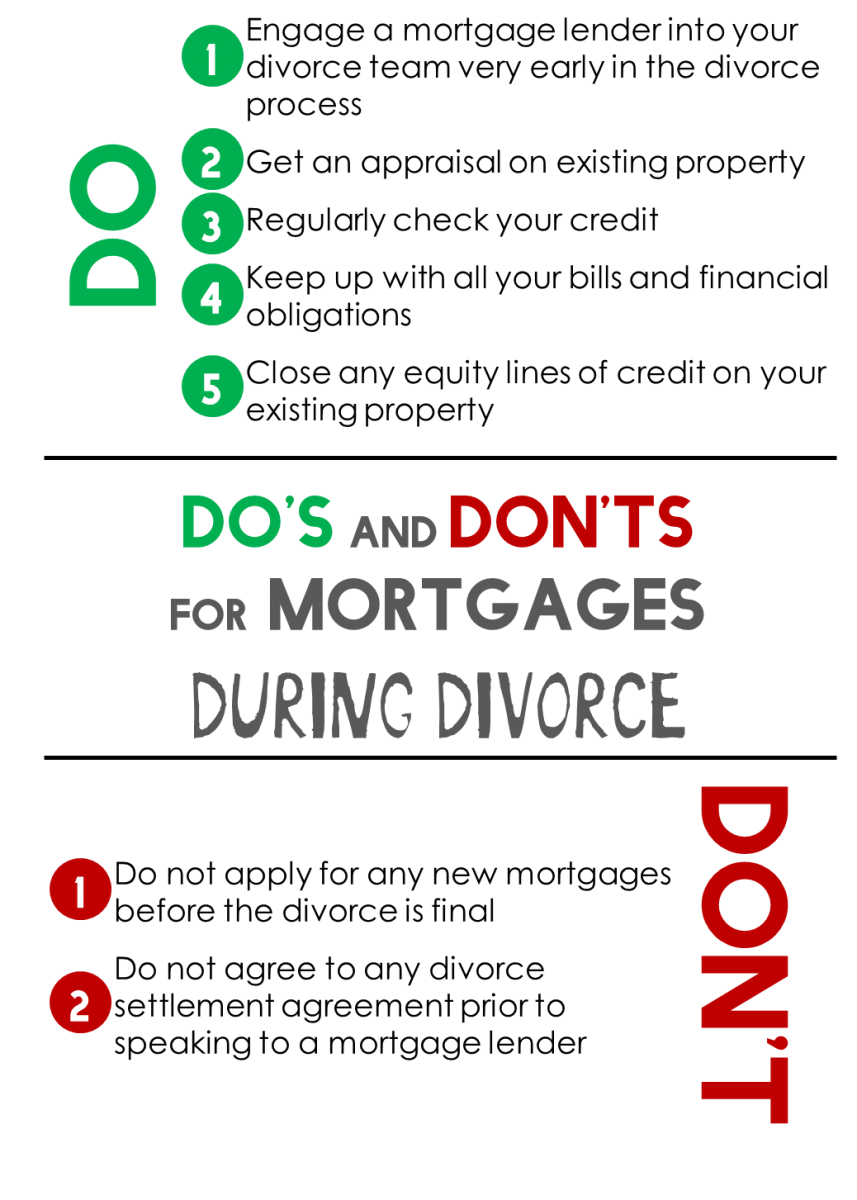 3. Regularly check your credit
Everyone is entitled to get one free credit report from each of the three credit reporting agencies each year. I recommend requesting a report from one agency every 3-4 months during your divorce in order to stay on top of your credit history. Credit reports are available at www.annualcreditreport.com.
4. Keep up with all your bills and financial obligations
If your name is on a bill or obligation - even if you believe your soon-to-be ex is responsible for a bill - make sure it gets paid on time, every time it is due. Late and missed payments can wreak havoc on your credit score, which can create significant challenges for your ability to borrow money long into the future.
5. Close any equity lines of credit on your existing property
If you have a HELOC (home equity line of credit) on your existing property and it is in the names of both spouses, close it! Having a zero balance does not mean that the account has been closed; you must specifically request that the HELOC be closed. Leaving the HELOC open presents an opportunity for one of the spouses to use it, creating a new liability for both spouses.
Don'ts
1. Do not apply for any new mortgages before the divorce is final
You may feel that applying for new mortgages (refinance or new purchase) during the divorce process is helping to speed things along, but you may in fact be committing mortgage fraud without realizing it.
2. Do not agree to any divorce settlement agreement prior to speaking to a mortgage lender
If you plan on refinancing or buying a new home, check with a mortgage lender to make sure the divorce settlement agreement sets you up properly to qualify for a new loan. This is especially important if you require any support payments as qualifying income. The general rule of thumb is that you need at least 6 months history of support payments and at least 36 months of continued payments into the future to consider support as qualifying income for a mortgage, but there are many nuances and rules here that may be missed. Working with a mortgage lender early in the divorce process is best to avoid any issues, but engaging one at any time is better than running into issues after the divorce.
Rebecca Thorburn is a Loan Officer with PrimeLending. She is happy to answer your divorce-related mortgage questions and be a part of your divorce team.