Are CDs Going Extinct?
For the last fifty years, CDs have been a stable part of an investor's portfolio. Risky money went into stocks, less risky into bonds, and the money a person didn't want to lose went into CDs. For retirees, CDs often comprised a significant percent of a saver's portfolio.
But with interest rates at record lows, and the average rate on a 12-month CD at 0.36% according to BestCashCow data, one has to wonder if CDs have lost their place. The answer seems to be, yes.
Data from the St. Louis Federal Reserve Bank shows that time deposits (time deposits are another name for CDs) have fallen sharply over the past four years since the financial crisis, and are now at the lowest level since before 1980. CD deposits have fallen by more than 50% since they peeked near $1.4 trillion in the middle of the last recession.
My hypothesis is that low rates have forced savers to do one of two things. Either they have decided that the low rates do not warrant locking money up in a CD, and have put it into a more liquid savings account, or they have taken the money and invested it in the stock market.
The chart below shows CD deposits versus total savings deposits. Notice how savings deposits have skyrocketed since the financial crisis and not come down. Some of this may be noise due to corporate cash but the big online banks that focus on savings accounts have seen their deposit bases increase significantly in the past five years.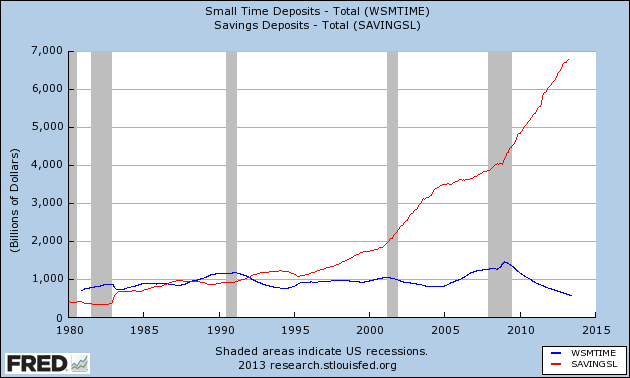 Below, Discover Bank's deposits have grown from $28 billion in 2008 to $42 billion as of March 2013. Online banks such as American Express and Ally Bank have experienced similar growth. It appears to be true that while CD deposits have shrunk, consumer savings deposits have grown significantly over the past five years.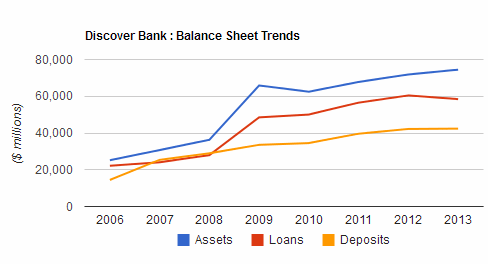 Let's look at the second part of the hypothesis: CD owners are putting their money into the stock market. In fact, inflows into the stock market from retail investors have been very low over the past five years. By and large, the average consumer is not jumping back into the stock market.
An article by 24/7 posted on Marketwatch stated:
Are investors returning to the stock market? Absolutely they are. The DJIA and S&P 500 back at five-year highs did not come magically. But it still left much of Joe Public and retail investors on the sidelines. Now it looks as though retail investors were net buyers of stocks recently for the first time since 2007.
Net buyers for the first time since 2007! No, that CD money did not go into the stock market. Only now are consumers beginning to tip their toes back into the stock market.
This leads me to my last chart. I post a chart like this every two weeks in my Bank Saver column examining the yield difference between savings rates and 1 year CDs.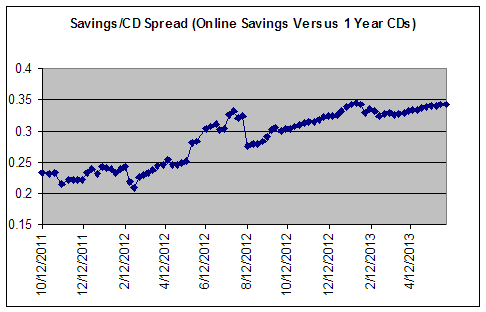 The chart shows that over the past couple of months online savings accounts have paid on average .35 percentage points more than a 1 year CD, up from .23 percent more in 2011. Online savings accounts have gotten more attractive relative to CDs over time. In fact, the average savings account rate is about the same as a 3 year CD. In addition, online saving account yield have not dropped nearly as quickly as CDs, making online savings accounts a reasonable alternative to a CD.
Conclusion
Savers are eschewing CDs for savings accounts because they now pay an equivalent rate and are more liquid. Many consumers have decided that to lock money up for an extended period of time at an extremely low rate is not worth it.
This is not the end for CDs. As interest rates rise and long-term CDs start to pay a more reasonable rate, money will move back in. But for now, the extended low term cycle has put the once-popular investment option on the endangered species list.
Are you still putting money into CDs? Does this conclusion match your own thinking? Do you plan on putting more money into CDs over the next couple of months? We'd love to get your feedback.