We've long been taught and believed that an investment in the stock market will provide a much better return than simply putting ones money in the bank, After all, putting the money into an FDIC insured savings account is basically a risk-free investment, while the stock market, as we've come to find out, is full of risk. Investors need to be compensated for that risk with a much greater rate of return.
The other day, I was pondering that thought and decided to see just how much more an investor who put their money in the market would have earned versus someone who just stuck it into an FDIC insured savings or money market account.
I started the analysis in 1970 to capture the earnings cycle of a baby boomer who started work around that time and is now ready to retire. I also made a few assumptions:
For the historical money market rates, I took the Fed Funds rate for December of each year and added 3 percentage points (300 basis points). We've seen that high yield savings and money market accounts generally pay 3 percentage points above the Fed Funds rate.
I used the Dow Jones Industrial Average as my basis for stock returns.
I couldn't find a source for Dow Dividend payments for each year so I used 5% as the average since 1970.
I took out 1.5% of Dow return as fees. The average actively managed mutual fund takes out 1.5%. In addition, up until the 1990s, it was quite expensive to buy and sell stocks.
I ignored tax consequences. I realize that long-term capital gains tax rates on stocks and dividend tax rates may benefit stocks but didn't model them here because their tax advantage is relatively recent. Both equities and deposit accounts can also accrue tax free in IRAs and 401K plans.
I then took two investors who each invested $100,000 and calculated how much their money would appreciate over the next 39 years based on the assumptions above. The first chart shows the difference, assuming today's Dow closing price of 7837.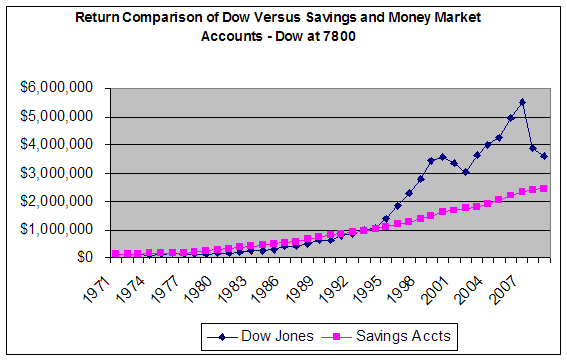 Several thoughts. First, stocks do earn a higher return over long periods of time, although not as high as I was expecting. The $100,000 had grown to $3,600,000 in the Dow versus $2,500,000 in a money market account. That's significant money, but it's not triple or quadruple, which is what I expected. Maybe I had unrealistic expectations.
Second, it's clear that buy-and-hold over periods as long as 30 years may not be the best strategy. If an investor had sold their Dow investment in 2007, they would have netted $5,500,000 versus just $2,300,000 in the bank. Now, many would say that it's hard to get the timing right. The reality is, many of us knew there was a bubble in the making. I know of more than a few retirees who wanted to get out in 2007 but were convinced by their investment advisers to stay the course – buy and hold. The bottom line: when the return ratio between stocks and safe assets (savings accounts, treasuries, etc.) gets above 2-3x, get out. Buy low, sell high, no matter what the pros tell you.
Which brings me to another interesting chart. In this one, I graphed the return comparison if the Dow goes back to 6,600, its low for this bear market – so far. I've done several analyses which show it has the potential to go lower, depending on how the economy responds.
See articles: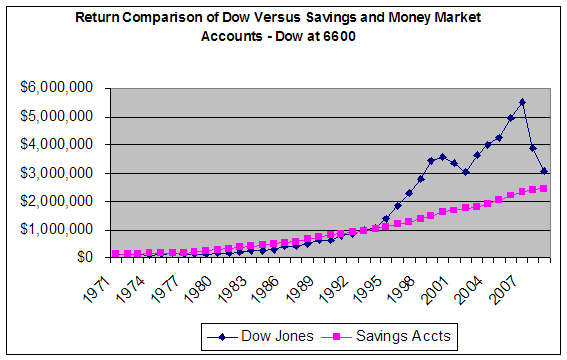 As you can see, at 6,600, stocks have barely returned more than ultra-safe savings accounts and money markets. If we used a longer-term CD laddered portfolio, the safe return rate would have been even higher. At Dow 5,200, it will have the same 30 year return as savings accounts, using my assumptions.
It's hard to imagine that 30 years of risk-premium will be wiped out in this bear market and thus 5,200 seem unlikely. Yet, if inflation returns and interest rates spike, it's not hard to imagine a scenario where the market declines from 7,800 and interest rates on savings accounts rise. In that case, the gap between the two investments will narrow further. That will represent a golden opportunity to buy stocks.
My Conclusions:
Stocks will return more over long periods of time than ultra-safe savings and CDs, but not as much as I thought.
It's unlikely the Dow will go lower than 6,600 hundred due to the spread return between it and savings accounts.
Buy-and-hold does not hold up as an investment strategy. Buy low, sell high is a much better strategy.
Based on the ratio between savings rate and Dow returns, it looks like now is a low period (6600 was a very low period) and probably a good time to buy equities.
I welcome any thoughts or comments.