ING has been promoting their electric orange account which comes with a high rate on high balances, and easy access to your money. The rates on the account are:
5.30% APY for balances of %100,000 or more.
5.25% APY for balances between $50,000 and $100,000.
4.00% APY for balances up to $50,000.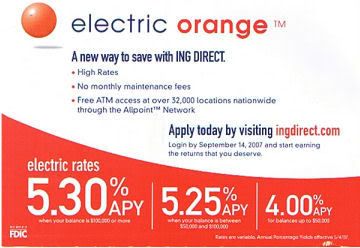 The 5.30% and 5.25% APYs are competitive although you will have to deposit substantial sums to get it. In addition, ING is the only bank at that rate level, besides Everbank, that offers instant access to the cash via check writing or a debit/check card. This is really a checking account and that's what they call it on the ING site.
I called ING to see if there was any limit to the amount of money I could withdraw via my checkcard and the answer if you can debit out as much money as you have in the account. There is a $1,000 daily withdrawal limit using the ATM.
If you have a large amount of money to deposit, are looking for competitive rates, and easy access to the money you might want to consider the electric orange account.
If you don't want to deposit that much money you might also want to consider ING's classic Orange Savings Account. The rate on this isn't as competitive but its a good, easy-to-use, no minimum balance account from a known entity.
ING Direct is backed by ING (NYSE:ING), a global financial institution of Dutch origin offering banking, insurance and asset management to over 60 million private, corporate and institutional clients in more than 50 countries. ING Direct is FDIC insured.
Below is a video of the bank's President, Arkadi Kuhlmann, talking about ING DIRECT.