Cisco is getting its hooks into the whole Web 2.0 software and hardware market. It's CEO claims that person-to-person connection and collaboration will fundamentally alter the world. Is this hype or true? And if it's true, will Cisco benefit.
At the recent VMWorld Conference, Cisco CEO John Chambers layed out his vision for the future of the Internet and Cisco.
He sees Virtualization as powering the next wave of innovation.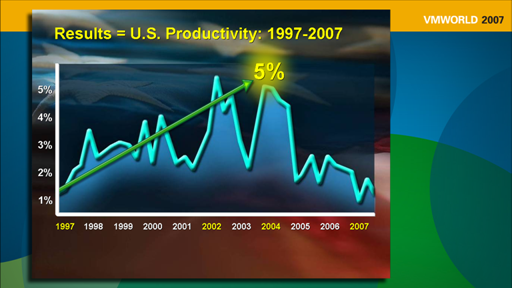 Virtualization is not just a technology though, but the process of taking real-world interactions and bringing them into the digital and computer world. In his words, we are entering "the second phase of the computer industry." And virtualization "unlocks the capability of technology to change business models." It's the maturation of Web 2.0 across the consumer and business world. Apps like Facebook, Myspace, Wikipedia, and YouTube will continue to develop and be ported to other applications resulting in massive increases in productivity. The chart shows how productivity soared during the last Internet boom, has dipped recently. According to him, Web 2.0 and virtualization will provide the next tools to increase this productivity.
Of course Cisco profited mightily from such jargon during the first Web bubble. Cisco not only wants to sell more products and services as an arms supplier to this virtualization market, but it also wants to serve as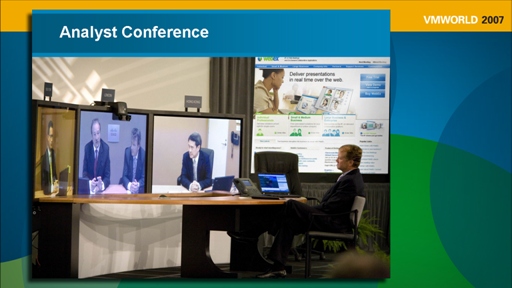 a role model for how companies can benefit. He trotted out examples of how the company has embraced collaboration across its business. He claims that costs in their legal office are 60% of their competitors because of the use of web 2.0 and collaboration software. He also said that they've taken the process of buying a company from 40 days to 8 using tools like WebEx (which they purchased recently). And he showed a slide of how they recently did an earnings reports across multiple continents virtually. They clearly want to lead by example.
Cisco's stock at 31 is at a 5 year although down from its bubble peak of near 100. It has quarterly earnings growth of 25% and a PE of 27. The question, is this for real and will Cisco lead the charge? I don't know. It's equally possible that companies that VMWare and EMC could be the leaders in this field. Or perhaps all of them. What's clear is that the hype for Web 2.0, Virtualization, whatever you want to call it is beginning to get a bit hotter.