Microsoft is a dividend stock that BestCashCow tracks as part of its Top 15 Dow Dividend Stocks. Its current yield of 2.70% is equivalent to the rate of the best 5-year CD rates. It currently pays a dividend of $.20 per quarter, up from $0.16 in August 2011. The question I ask myself is, can Microsoft maintain or increase the dividend and do I expect the stock to drop precipitously over the next 1-2 years? Yesterday's earnings release as well Microsoft's recent product launches gives me comfort on both counts.
First, it's important to know that Microsoft is pretty stable stock. In September, I wrote the following in an article entitled: Microsoft Dividend at 3%; Good Place to Park Cash?
"A comparison of Microsoft to the Nasdaq and the S&P 500 shows that it pretty much trends along with these indexes. Its stock movement seems to confirm that it has achieved mature status. Ten years ago, Microsoft traded around $28 and today its priced at $26. Its low was close to $15 in 2009, during the height of the great recession. Its current 52-week high was $29.49 and its 52-week low - $23.65."
I continued to write:
"If you have some cash and don't mind Microsoft stock swinging in a range between 20-30 then it may be a good way to generate income. The company's $53 billion in the bank and enormous profitability make it a pretty attractive investment."
Earnings Release
Microsoft's announced revenue of $20.89 billion for the quarter ended Dec. 31, 2011, a 5% increase from the prior year period. Operating income, net income, and diluted earnings per share for the quarter were $7.99 billion, $6.62 billion, and $0.78 per share, compared with $8.17 billion, $6.63 billion and $0.77 per share, respectively, in the prior year period.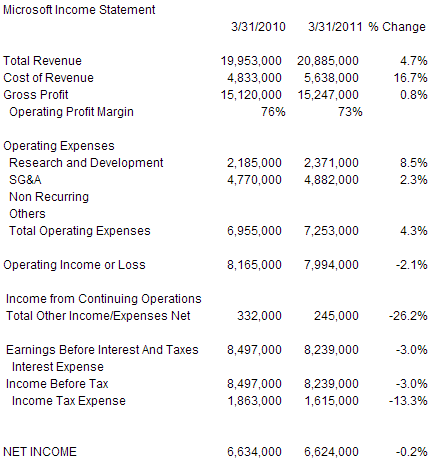 So, how can revenue increase while net income falls? There are two explanations for this. The first is that Microsoft's operating profit margin fell, meaning that while it sold a more, it didn't make as much from those sales. Second, Microsoft spent $200 million more in R&D and $100 million more in marketing last quarter than the comparable one in 2010.
The decline in operating margin occurred because Microsoft's cost of revenue increased by 16.7%, shrinking Microsoft's operating profit margin from 76% to 73%. The shift in Microsoft sales explains this decrease. Microsoft earning release states that:
The Microsoft Business Division reported $6.28 billion in second quarter revenue, a 3% increase from the prior year period, and a 7% increase excluding the prior year recognition of deferred revenue for the Office 2010 technology guarantee program.
The Server & Tools business posted $4.77 billion in second quarter revenue, an 11% increase from the prior year period,
The Windows and Windows Live Division posted revenue of $4.74 billion, a 6% decline from the prior period.
The Online Services Division reported revenue of $784 million, a 10% increase from the prior year period.
The Entertainment & Devices Division posted revenue of $4.24 billion, an increase of 15% from the prior period.
Revenue from the sales of Windows is decreasing while revenue from XBox gaming systems, Servers, and Businesses is growing. The problem is that Windows is a hugely profitable product line with fat product margins while XBox, server tools, and the other product lines are in much more competitive product segments that do not support the same kind of high operating margins.
The question with Microsoft has long been how will it fare as the PC (over which it has a virtual monopoly) is replaced by other devices - like smarphones, tablets, etc. This earnings report shows the beginnings of this shift and the news seems be encouraging. Microsoft is boosting sales in its other divisions and while it is suffering some margin erosion, it is still holding at a very high level.
Microsoft Product Launches
Microsoft is countering the slow erosion of the dominance of Windows by expanding into other markets. Its XBox gaming system is one of the dominant gaming systems and it reported that the Xbox 360 installed base now totals approximately 66 million consoles and 18 million Kinect sensors. Xbox LIVE now has 40 million members worldwide, an increase of 33% from the prior year period. Its Windows 7 Mobile operating system has received favorable reviews from the Tech press and its partnership with Nokia hold promise that it can be a player in the smartphone space. Just a year ago many left Microsoft for dead in this fast-growing segment. The company is also designing Windows 8 to support full tablet functionality, including a shift away from Intel chips, a sign that it is finally truly committed to this market.
In general, it feels like Microsoft realizes that the clock is ticking with Windows and it taking steps to both milk its cash cow and develop new revenue sources.
Is the Dividend Stable?
Microsoft paid $1,683,000 in dividends in the fourth quarter of 2011. As of December 31, 2011 the company had $52 billion in cash, cash equivalents, and short term investments on hand. In the last quarter, it used $1 billion of its cash hoard although for the previous six months, it added $1 billion cash. So, Microsoft's cash position looks incredibly stable and strong. Microsoft is only one of four companies (Exxon Mobile, J&J, Automatic Data Processing) to have a AAA credit rating (for whatever that's worth). The credit analysts believe Microsoft has more than enough cash to pay its bondholders.
Microsoft's dividend looks stable for the next 2-3 years. If it can grow its mobile and tablet business, and slow the decline in Windows revenue, the company may even be able to boost the dividend in the next 12-16 months.
Outlook:
Dividend: Stable or Growing