Average CD rates were mostly flat this past week.
The average 1-year CD rate dropped slightly from 1.84% APY to 1.83% APY ove the past week. The top rate remains at 2% APY and is offered by First City Bank. First City is offering a great rate but be sure to stay under FDIC insurance limits - it is rated as 0 stars according to Bauer Financial for its safety and soundness.
The average 3-year CD rate dropped by 1 basis points from 2.64% APY to 2.61% APY. Tthe top is currently USAA Federal Savings Bank with a 2.81% APY 3-year CD. The minimum deposit to get that rate is $175,000. While you need a military connection to quality for their loan and insurance products, you do not need one to take advantage of USAA deposit products. In the banking world, USAA is highly regarded for its banking products and services.
The average 5-year CD remained at 3.34% APY and BankUnited continues to have the top rate at 3.50%. Acacia Federal Savings Bank is also offering an IRA only 5-year CD that pays 3.50% APY. Everbank continues to offer the next highest rate at 3.47% APY.
The chart below shows that CD rates have largely stabilized although there is still a slight drift down in short term rates and savings accounts.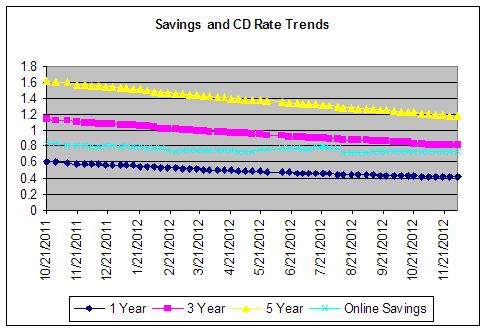 As we note in this article (Spread Between Savings Rates and CD Rates Hits Record High), the spread between short term and longer term deposit accounts reached a record high last week.
The elevated ratio means it may be worth taking a look at a longer-term CD, especially one that doesn't have an onerous early-withdrawal penalty. You can now earn more than 1.5 percentage points more by opening a 5 year CD versus a 1-year CD. If interest rates stay low for the next couple of years, as is possible, then perhaps this elevated spread makes opening the account worth it.
Regardless of this analysis, CD laddering may be a good way to smooth out the return you receive from your CD portfolio.