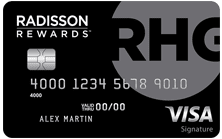 Features

Sign-Up Bonus

85,000 Gold Points – 50,000 after first purchase, 35,000 after $2,500 spend in 90 days.

Other Benefits

10 points per dollar on eligible purchases at participating Carlson hotels worldwide, and 5 points per dollar elsewhere.
Automatic Gold Elite Status once the card is used.

Annual Fee

$75. You receive 40,000 bonus points each year after you renew your card and pay the annual fee.
Calculate Your Value

Value of Points

BestCashCow estimates the value of 1,000 Club Carlson points to be approximately $8.

Sign-Up Bonus
$25,000 A Year Spend including $1,000 at Carlson Hotels

Produces 134,000 Carlson points annually which BestCashCow calculates to be worth as much as $1,072.
The value of the 40,000 bonus points upon renewal covers the $75 annual fee when used in optimal redemption (see article above).
Read our recent article on maximizing the value of Club Carlson points in London.
Compare this credit card with those of other major hotel programs.
Image: www.mdconnectinc.com