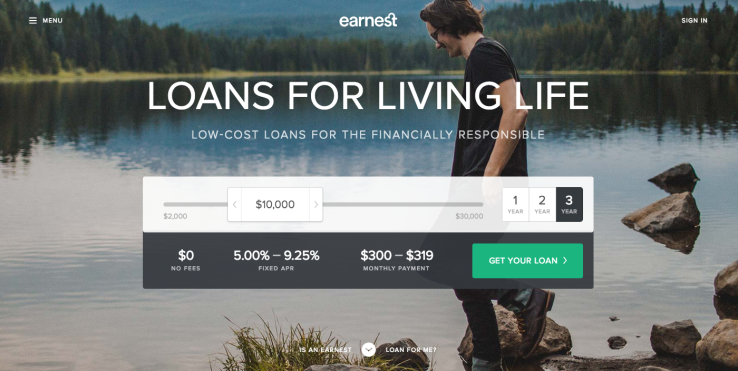 Earnest is a Silicon Valley start-up that has launched to offer consumers unsecured loans with rates as low as 4.25% APR. Loans are up to $30,000.
An unsecured loan is a loan not backed by the personal assets of the borrower, typically a house, a car, or cash. A credit card is another example of an unsecured loan while a mortgage is an example of a secured loan, since it is secured by the house purchased with the money. Typically, unsecured loan rates are significantly higher than unsecured rates, because the lender has no collateral should the borrower default.
On a quick scan of the Earnest site, I found the following indicative rates:
1 Year Loan: 4.25% - 8.50%
2 Year Loan: 4.50% - 8.75%
3 Year Loan: 5.00% - 9.25%
There are no fees or closing costs associated with the loans.
Are Earnest Rates Competitive?
In general, these look to be very competitive borrowing rates. Most credit cards offer normal rates between 8-14% APR, although it is possible to get a 0% teaser rate that lasts for 12 months.
I checked some of the more competitive unsecured bank loan rates and found a few that started as low as 7.50% APR and others that went as high as 12.5% APR. So, the low end of Earnest's range looks pretty good.
Earnest's Difference
The big difference that Earnest touts on its website is that is determines who gets a loan and the corresponding rate in a different manner than traditional lenders.
"At Earnest we look at additional factors such as your education, employment history, and financial picture in parallel with your credit history. This allows us to lend smarter and gives us an accurate insight into how financially responsible you truly are. For instance, financially responsible young people just entering the job market often do not have a lengthy credit history. This means their credit score will not fairly reflect their actual creditworthiness. At Earnest our mission is to identify the most financially responsible people using all the information they present to us so we can lend to them at the lowest possible rates."
This is particularly relevant to new grads who don't have a long credit history but might have a good job or a degree that indicates they will get a good job. Of course, the last thing many new grads need is extra debt but if they do need a loan out of college, this might be one good option.
Who Is Earnest?
Earnest received $15 million in funding last year from some blue chip venture capitalists and according to Techcrunch has lent about $3 million so far. I imagine the funding will allow them to test their lending algorithms. If they work, then they'll raise more money. At some point, they're going to need access to a low cost source of funds if they really want to ramp up. I took a look at their employee list and they have quite a few people in data analytics, software engineering, and product marketing and management. I didn't see a single person representing customer service. I did find an 800 number on the site and they say they will get back to emails within 8 hours.
If anyone has experience with Earnest, let us know how it went by commenting below.