After over 76 consecutive weeks in which CD rates have declined, and ongoing declines in savings rates, rates finally moved significantly higher last week, for the first time since the financial crisis took full effect in 2008. Average one year CD rates moved up from 0.379% APY to 3.46% APY. Five year CDs moved from 1.100% to 4.75% APY...
Sorry I couldn't resist.
Unfortunately, this is an April Fools joke. April Fools Day! Still, one day, hopefully in the not-to-distant future, I will be able to write these words in truth, not just in jest. Just not today. For this week, the downward trend continues. In the last week, average one-year CD Rates dipped from 0.379% to 0.377% APY. Three year average CD rates dropped from 0.751% to .747% APY. Five year average CDs dropped to from 1.097% to 1.093% APY. Online savings rates stayed stable at 0.707% APY for the third week in a row. We're on pace to see a sub-1% average APY on a 5 year CD rate by August or September.
Even if the averages are all below 1%, the top rates are still significantly higher. BestCashCow data shows the top rates for some key terms are:
Local banks and credit unions often offer better rates (especially for CDs) than online banks so be sure to check them out.
The chart below shows the trend in average rates since October 2012.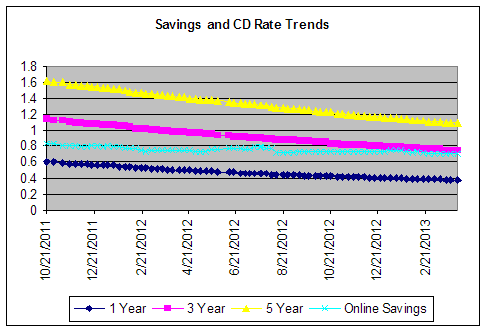 The difference in the rate of decline between online savings and CD rates can be viewed on the chart below, which shows the spread between online savings account rates and 12 month CDs. On average, online savings account rates pay 0.330 percentage points more than 1 year CDs, up from 0.23 percentage points more at the beginning of last year but down from the spread's high of 0.344 percentage points in late January.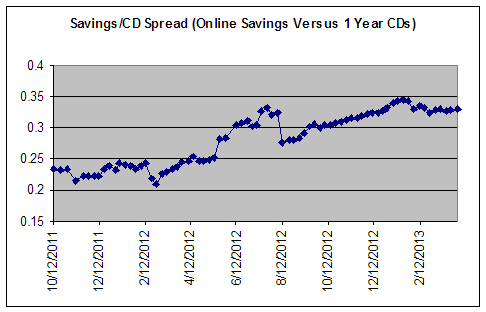 General rate environment
Not much to report on the economic front. The news was relatively quiet last week and remains so today. The buzz in the financial press is a dire NY Times editorial entitled "State-Wrecked: The Corruption of Capitalism in America" by David Stockman, a former congressman from Michigian and former budget director for Ronald Reagan. It's a really doom and gloom article postulating that America's debt is worse than anyone is saying, the bond market is an enormous bubble, and the country is headed for another depression. Here's the concluding paragraph:
"That, of course, will never happen because there are trillions of dollars of assets, from Shanghai skyscrapers to Fortune 1000 stocks to the latest housing market "recovery," artificially propped up by the Fed's interest-rate repression. The United States is broke — fiscally, morally, intellectually — and the Fed has incited a global currency war (Japan just signed up, the Brazilians and Chinese are angry, and the German-dominated euro zone is crumbling) that will soon overwhelm it. When the latest bubble pops, there will be nothing to stop the collapse. If this sounds like advice to get out of the markets and hide out in cash, it is. "
Pretty harsh. Maybe this will happen, maybe it won't. I happen to give more credence to Gary Schilling's view that we are five years into a deleveraging process that generally takes 8-10 years to finish. No matter what your belief though, it is smart to keep a certain percentage of a portfolio in cash. And if you subscribe to this doomsday scenario, make sure the bank you keep your cash in is in financially sound shape. BestCashCow lists the Texas ratio of every bank as well as the five year Texas ratio trend as two pieces of data you can use to assess a bank's safety and soundness. If the economy does crash again (I'm not saying it will), I'd be a bit nervous about having a government with $15 trillion plus in debt providing a backstop for my money.
For now, I'm sticking with my forecast. I think rates will rise in the next 9-15 months. But based on the current economic data I think it will be a very gradual and slow rise. I don't think we'll see 5% CDs anytime soon.
My outlook: Savings rates will continue to drift lower for the next 9-15 months before beginning to move higher. How high and how fast they move will depend on the level of local, state, and federal taxes and cuts; the continuation of a recent economic uptick; technological advances; and the ability of Europe to put its woes behind it and resolve its fiscal problems.
Savings Accounts or CDs?
The data continues to show that opening a savings account is a better bet than a 1-3 year term CD and I expect this to hold through 2013. Online savings accounts have held the line over the past year while CD rates continue to fall. As the chart shows, the premium for opening a longer-term CD has eroded significantly and continuously over the past year. While the premium for opening a 5 year CD over a 1 year CD was 1 percentage point in October 2011, it now stands at .716 percentage points.
Is it worth it to go long and open a 5 year? If you don't need the money, it's probably okay. Rates may begin to rise in the next year but they probably won't shoot up. Inflation looks to remain tame. There is also the chance that we go Japanese and rates continue to decline, bottom out, and stay low for the next 5-10 years. In that case, a 5-year CD today would look good. I don't expect that to happen, but it could.
For money you want to keep liquid, go with online savings accounts. They offer better rates than 1-3 year CDs and athough several banks have dropped rates in the past month, they have still offered decent rate stability over the past year and a half.
If you want to take advantage of the higher rates on longer-term CDs, look to open them at local community banks. BestCashCow research has shown that community banks and credit unions offer the most competitive rates on longer-maturity CDs. Otherwise, you'd be better off keeping your money liquid in an online savings account.
I believe this is the best and easiest strategy for keeping your cash liquid and maximizing your savings over the next year.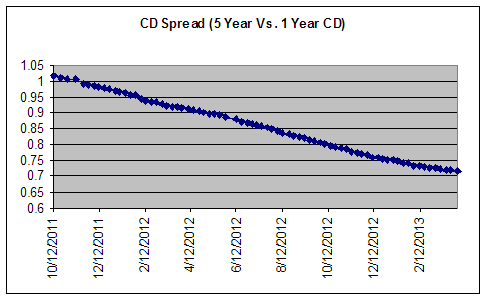 Make the best of a tough savings situation in 2013
Yields may be low in 2013 but a savvy saver can boost the return with no increase in rate by rate shopping. By shopping around, a saver can earn an extra half to full percentage point. On $100,000, that's $1,000 in extra cash per year. Remember, even in today's environment, there is competition for your cash.