In the words of Aerosmith, with rates "it's the same old song and dance." CD rates declined last week for the 80th straight week. Average one-year CD Rates dipped from 0.371% to 0.368% APY. Three year average CD rates dropped from 0.734% to .730% APY. Five year average CDs dropped to from 1.075% to 1.071% APY. Average online savings rates remained steady at 0.705% APY after falling a bit last week. We remain on pace to see a sub-1% average APY on a 5 year CD rate by August or September.
The top nationally available CD rates for the 3 year and the 5 year CD dropped in the last week.
Local banks and credit unions often offer better rates (especially for CDs) than online banks so be sure to check them out.
The chart below shows the trend in average rates since October 2012.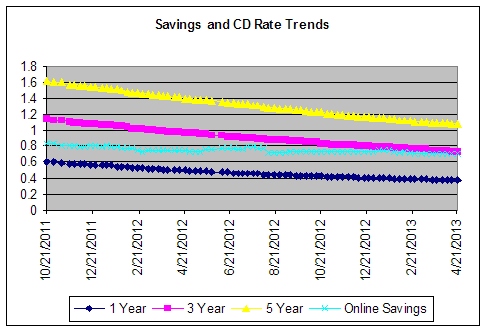 The difference in the rate of decline between online savings and CD rates can be viewed on the chart below, which shows the spread between online savings account rates and 12 month CDs. On average, online savings account rates pay 0.337 percentage points more than 1 year CDs, up from 0.23 percentage points more at the beginning of last year but down from the spread's high of 0.344 percentage points in late January.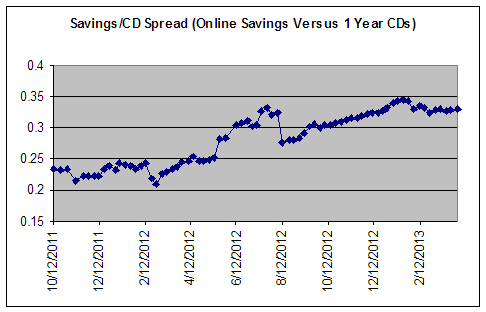 General rate environment
There wasn't a lot of key news in the past week on general economic activity. Today, the National Association of Realtors reported that pending home sales in March increased and remain above last year's numbers. The Pending Home Sales Index, a forward-looking indicator based on contract signings, rose 1.5 percent to 105.7 in March from a downwardly revised 104.1 in February, and is 7.0 percent above March 2012 when it was 98.8. Pending sales have been above year-ago levels for the past 23 months; the data reflect contracts but not closings.
The data confirm that housing has firmed up over the past several months and is no longer the doormat for the economy. Rock bottom interest rates engineered by the Fed and a slightly improving economy have helped bolster the housing market. Still, the numbers aren't strong enough to proclaim that a recovery is gathering strength.
My outlook: Savings rates will continue to drift lower for the next 8-14 months before beginning to move higher. How high and how fast they move will depend on the level of local, state, and federal taxes and cuts; the continuation of a recent economic uptick; technological advances; and the ability of Europe to put its woes behind it and resolve its fiscal problems.
Savings Accounts or CDs?
The data continues to show that opening a savings account is a better bet than a 1-3 year term CD and I expect this to hold through 2013. Online savings accounts have held the line over the past year while CD rates continue to fall. As the chart shows, the premium for opening a longer-term CD has eroded significantly and continuously over the past year. While the premium for opening a 5 year CD over a 1 year CD was 1 percentage point in October 2011, it now stands at .703 percentage points.
Is it worth it to go long and open a 5 year? If you don't need the money, it's probably okay. Rates may begin to rise in the next year but they probably won't shoot up. Inflation looks to remain tame. There is also the chance that we go Japanese and rates continue to decline, bottom out, and stay low for the next 5-10 years. In that case, a 5-year CD today would look good. I don't expect that to happen, but it could.
For money you want to keep liquid, go with online savings accounts. They offer better rates than 1-3 year CDs and athough several banks have dropped rates in the past month, they have still offered decent rate stability over the past year and a half.
If you want to take advantage of the higher rates on longer-term CDs, look to open them at local community banks. BestCashCow research has shown that community banks and credit unions offer the most competitive rates on longer-maturity CDs. Otherwise, you'd be better off keeping your money liquid in an online savings account.
I believe this is the best and easiest strategy for keeping your cash liquid and maximizing your savings over the next year.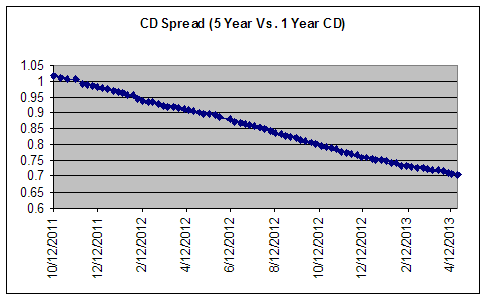 Make the best of a tough savings situation in 2013
Yields may be low in 2013 but a savvy saver can boost the return with no increase in rate by rate shopping. By shopping around, a saver can earn an extra half to full percentage point. On $100,000, that's $1,000 in extra cash per year. Remember, even in today's environment, there is competition for your cash.